---
Congrats to our Spring 2013 Graduates!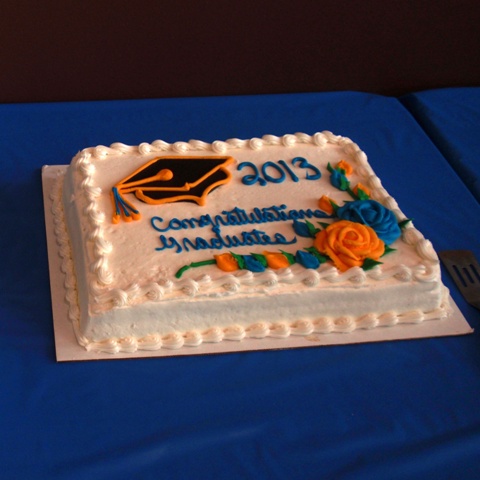 Animal & Range Sciences held a reception for our 2013 graduates,
their families and guests on Friday, May 3th in the
Animal Bioscience Building
First Floor Lobby

See photos from
the graduation party HERE
---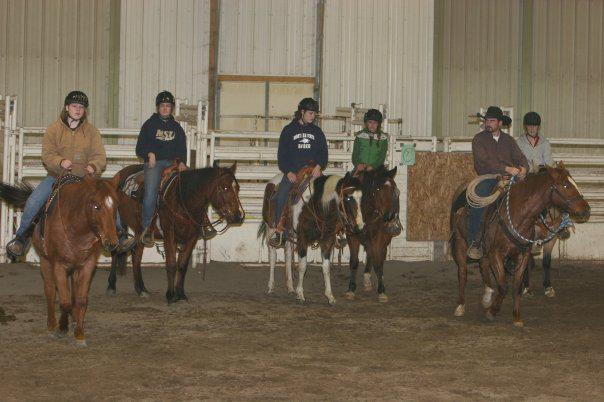 Non-Tenure Track Equine Instructor Pool Announcement
The Department of Animal & Range Sciences is soliciting applications from individuals who would be qualified to teach equitation techniques, horse behavior, horse handling, horse equipment, principles and techniques of breaking and training young horses, and advanced techniques and training for reining, cutting, or working cow horses.

Interested individuals should send a resume, and a list of 3 professional references to:

Dr. Glenn Duff, Department Head
Department of Animal & Range Sciences
P.O. Box 172900
Bozeman, MT 59717-2900

---
Tenure Track Faculty Position Vacancy Announcement
Extension Forage Specialist (Assistant Professor)
Department of Animal and Range Sciences
Start Date April 15, 2013 (negotiable)
Tenure Track, full-time (1.0 FTE) fiscal year appointment (July - June)

The position announcement is available HERE
---
Upcoming Conferences/Events
2013 Western Section American Society of Animal Science

Montana State University, Bozeman, MT
Dates: June 19 - 21, 2013
Registration and Program information coming soon HERE


---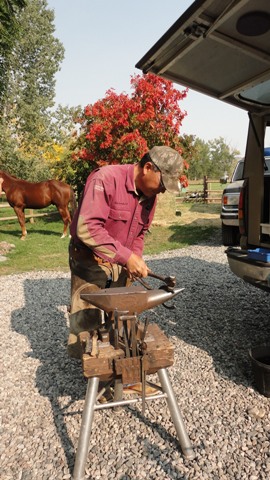 Tom Wolfe, Instructor of the MSU Farrier School, retired on December 31, 2012. We wish Tom well in retirement, and although he will be greatly missed, we are very excited to have Bryce Kawasaki as the new Interim Instructor.
Bryce graduated from the MSU Horseshoeing School in 1994. After this training he started working with several Certified Journeyman Farriers, including Jerry Kawasaki, Carl Jolliff, and Tom Wolfe. Bryce has had his own farrier business working with his wife, Jenny, for the last fifteen years. In 2000 when Bryce met Bob Marshall his career changed dramatically. Bob has never nailed on a "keg" or factory made shoe. His skill at forging handmade shoes, shoeing horses, and his teaching ability are unprecedented. To this day well over half the shoes that Bryce puts on are made by him in his shop or on the job. Bryce served as president of the Montana Professional Horseshoers Association for six years, and sat on the Board of Directors for the American Farriers Association for those same six years. He has been helping Tom Wolfe out at the Farrier School for ten years. During this time he has conducted a tool making workshop at his forge in Gallatin Gateway, MT. Bryce has also presented week long horseshoeing workshops for practicing farriers looking to improve. Bryce was born and raised in Montana and feels very privileged to have been able to work and live in this great state, and now be able to teach at the MSU Farrier School. Bryce and his wife own several horses and enjoy riding every chance they get, especially getting into the back country.

---
Recent Publications from the Department
Barsotti, J. L., U. M. Sainju, A. W. Lenssen, C. Montagne, and P. G. Hatfield. 2013. Net greenhouse gas emissions affected by sheep grazing in dryland cropping systems. Soil Sci. Soc. Am. J. 77:1012-1025.


Frost, R. A., J. C. Mosley, and B. L. Roeder. 2013. Recovery and viability of Sulfur Cinquefoil seeds from the feces of sheep and goats. Rangeland Ecol. Manag. 66:51-55.


Beck, J. L., J. W. Connelly, and C. L. Wambolt. 2012. Forum Paper: Consequences of treating Wyoming big sagebrush to enhance wildlife habitats. Rangeland Ecol. Manag. 65:444-455.


Carr, Craig A., and William C. Krueger. 2012. The role of the seed bank in recovery of understory species in an eastern Oregon ponderosa pine forest. Northwest Sci. 86:168-178.


Frisina, M. R. 2012. Argali Management Triad. Wild Sheep, Summer 2012. Wild Sheep Foundation, Cody WY.


Frost, Rachel A., and Jeffrey C. Mosley. 2012. Sulfur Cinquefoil (Potentilla recta) response to defoliation on foothill rangeland. Invasive Plant Sci. Manag. 5:408-416.


Henderson, S. L., T. K. Mosley, J. C. Mosley, and R. W. Kott. 2012. Spotted knapweed utilization by sequential cattle and sheep grazing. Rangeland Ecol. Manag. 65:286-291.


Mulliniks, J. T., S. H. Cox, M. E. Kemp, R. L. Endecott, R. C. Waterman, D. M. VanLeeuwen, and M. K. Petersen. 2012. Relationship between body condition score at calving and reproductive performance in young postpartum cows grazing native range. J. Anim. Sci. 90:2811-2817.


Waterman, R. C., T. W. Geary, J. A. Paterson, and R. J. Lipsey. 2012. Early weaning in Northern Great Plains beef cattle production systems: I. Performance and reproductive response in range beef cows. Livest. Sci. 148:26-35.


Waterman, R. C., T. W. Geary, J. A. Paterson, and R. J. Lipsey. 2012. Early weaning in Northern Great Plains beef cattle production systems: II. Development of replacement heifers weaned at 80 or 215 d of age. Livest. Sci. 148:36-45.


Yeoman, C. J., N. Chia, P. Jeraldo, M. Sipos, N. D. Goldenfeld, and B. A. White. 2012. The microbiome of the chicken gastrointestinal tract. Anim. Health Res. Rev. 13:89-99.
---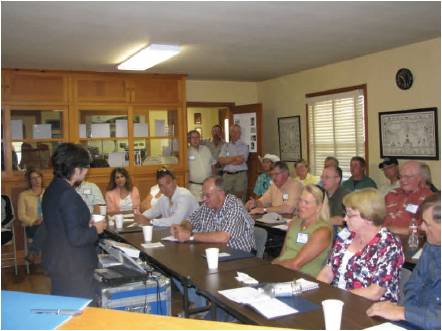 American Wool Council Meets at MSU

MSU's President Cruzado addresses the Wool Council and guests at the Montana Wool Lab, one of just three university wool labs in the US.

In July, the Montana Wool Lab and the Montana Wool Growers Association hosted the American Wool Council, a division of the national American Sheep Industry (ASI).

Other guests included members of the Marines, the Army, and Special Forces. The military is interested in expanding their use of wool because of its comfort, flame resistance, and antimicrobial properties.
---
Congrats to our award winners at the 2012 Western Section of the American Society of Animal Science!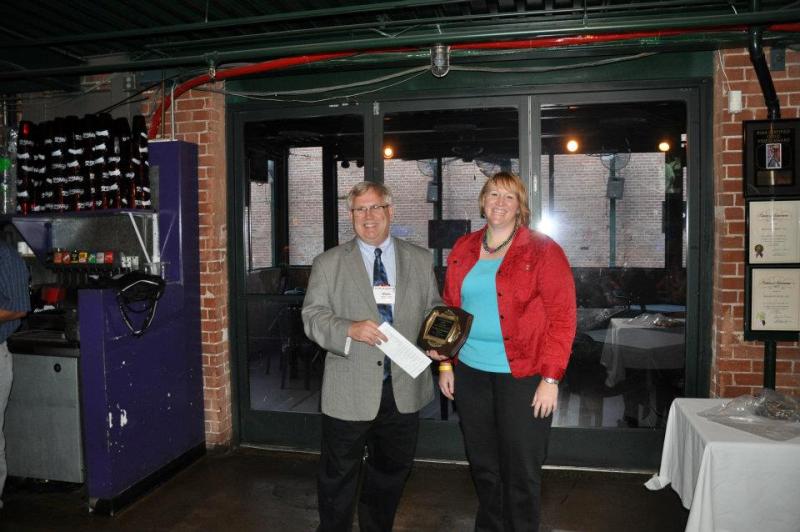 Dr. Glenn Duff presenting the 2012 WSASAS Extension Award to Dr. Rachel Endecott.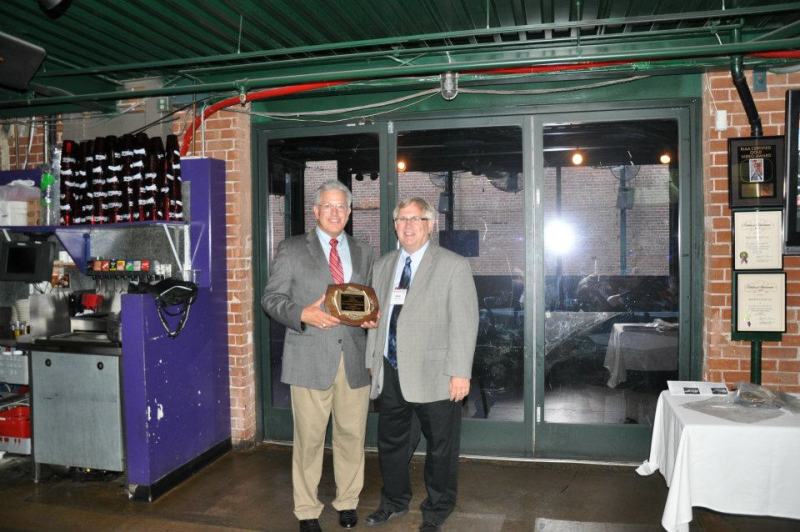 Dr. Glenn Duff presenting the 2012 WSASAS Distinguished Teaching Award to Dr. Jim Berardinelli.
For more pictures of the 2012 WSASAS meetings in Phoenix, AZ check here
.
---